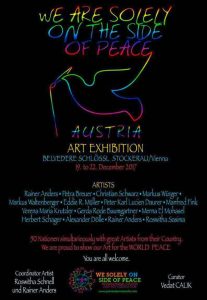 Petra Breuer
Christian Schwarz
Markus Würger
Markus Waltenberger
Eddie R. Müller
Peter Karl Lucien Daurer
Manfred Fink
Verena Maria Krutzler
Gerda Rode Baumgartner
Merna El Mohasel
Herbert Schager
Alexander Dölle
Rainer Anders
Roswitha Sasima
50 Nationen simultaneously with great Artists from their Country.
We are proud to show our Art for the WORLD PEACE.
19 to 22 December 2017
Belvedere Schlössl Vienna/Stockerau
You are all welcome.
Coordinator Artists: Roswitha Schnell, Rainer Anders
Fotos: Rainer Anders, Gerhard Nemeth, Christian Schwarz, H+H Schager
Sollte ich jemanden vergessen haben, bitte melden.