HERBERT SCHAGER, born in 1952 in Aschach/Donau in Upper Austria. He lives in the center of Linz/Austria, married with artist HELGA SCHAGER and two beautiful children: OONA VALARIE and FELIX VINZENZ.
After working in an office in the mid 70's he decided to change his life. He started studying photography and went to art school which he finished in the early 80's. He wanted to become an artist but life sometimes plays a lot of jokes. He worked in the "sub culture" what means a lot of work and less money. This was not so terrible because a lot of exciting things happened here. Most of the time he is working with computer graphics, photography, paintings, drawings, video and web design. Since 2012 he is in disability pension, since 2017 in regular pension.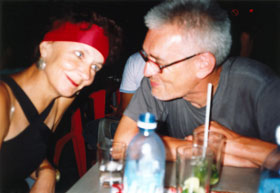 Helga + Herbert Schager, 2005
HERBERT SCHAGER, geboren 1952 in Aschach/Donau, Sternbild Steinbock. Er lebt im Zentrum von Linz und ist mit der Künstlerin HELGA SCHAGER verheiratet. Er hat zwei wunderbare Kinder: OONA VALARIE und FELIX VINZENZ.
Nach Beendigung der Handelsakademie arbeitete er einige Jahre im Büro. Dies erfüllte ihn nicht besonders und so wollte er sein Leben verändern. Er begann sich autodidaktisch mit Fotographie zu beschäftigen und besuchte dann die Hochschule für Gestaltung in Linz, die er 1983 mit dem Diplom für Gebrauchsgrafik abschloss. Er wollte Künstler werden, aber das Leben bietet manchmal einiges an Überraschungen. Er arbeitete meistens in der "Subkultur", was soviel wie eine Menge Arbeit und kaum Geld bedeutet. Das war nicht so schlimm, da in dieser Szene eine Menge an Aufregendem passiert. Meistens beschäftigte er sich mit Computergrafik, Fotographie, Zeichnen, Malen, Video, Web-Design, sowie der Gestaltung von Fotobüchern.
Seit 2012 ist er in der Erwerbsunfähigkeitspension, seit 2017 in der regulären Pension.